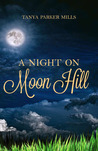 A Night on Moon Hill
by
Tanya Parker Mills
My rating:
3 of 5 stars
My friends who enjoy LDS fiction/mystery/romance would probably enjoy this book quite a bit. I have conflicted feelings and am having a hard time giving it an all-around rating. Here are some specific areas I'd rather rate:
Believable characters with emotional issues/disabilities: 5 stars (really enjoyed the character with Asperger's)
Independent book/LDS fiction: 4.5 stars
Plot: 3 stars
Romance: 3 stars
I am impressed with Tanya Mills' writing. The poetry she includes as part of the story is especially lovely. The beginning and end are strong bookends. I actually did not think she was an LDS writer until she wove that in much later in the book. (Sorry, but to me that is a plus, since I think the LDS books can get cheesy.)
Like other reviewers, I noticed that the book seems to fall into three sections. The first section is a great opening, an unlikely hero, a single professor who seems to have some uncontrollable compulsions, who finds a dead body in her pool. As she finds out more, it even increases the delicious little mystery.
The second third (that was fun to say) of the book turns more introspective and heartfelt. How does the protagonist open her heart to the possibility of love (which is incredibly difficult given her personality, compulsions, and being single and independent her whole life)? Can she love a child who is thrust into her life in unusual circumstances? And could she ever love a man who has to compete in her mind with the larger-than-life memory of her high school sweetheart? The very real difficulties of ill-prepared adults trying to raise a child with Asperger's was very much in the vein of the excellent book
The Curious Incident of the Dog in the Night-Time
.
These sections of the book worked well together. So I was startled when the last third of the book suddenly turned into an odd mix of evil two-dimensional villain/domestic abuse/chase scene/rescue. The pacing was so wrong. The book to this point was a really nice little mystery turned into affairs of the heart and how people grow through past issues and pain. I thought that we were firmly in "Curious Incident" territory. Too bad we weren't.
Mills is a good writer. I blame her editor. Was the sudden ending change a ploy to appeal to the typical LDS book fans? If so, it seems to have worked. The book seems to have overall high praise from Goodreads reviewers. For me, it was a letdown that a great book changed so quickly into a mediocre one.
View all my reviews